Consult with Steve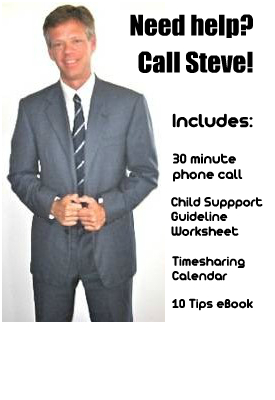 If you are interested, I offer a 30 minute consultation on child support.
As part of our phone consultation, I will prepare and email you a child support guideline worksheet detailing your particular child support scenario.
I will also prepare and email you a time-sharing calendar detailing the number of nights that correspond with the number used in the child support guidelines worksheet.
Given how child support is now calculated in Florida having an accurate time-sharing calendar is critically important!
As an added bonus, I will also send you your choice of:
10 Tips on How to Pay Less Child Support, or
10 Tips on How to Receive More Child Support.
Please note that I don't hold anything back during our phone consultation. I will give you my best advice for your particular situation.
Please call my office at (904) 348-6723 to schedule your phone consultation.
Thank you and I look forward to speaking with you.